Dallas Stars captain Jamie Benn may see the name "Shanahan" on his cellphone tomorrow.
During Saturday's game between the Stars and the Minnesota Wild, Benn hit Wild forward Matt Cooke with an elbow to the head. He wasn't penalized on the play, but it certainly didn't look pretty.
Sean Gentille of The Sporting News gets credit for the GIFs here. There are a couple different angles in play here, so it really lets the viewer break down what they see, all while potentially limiting the capability for different interpretations.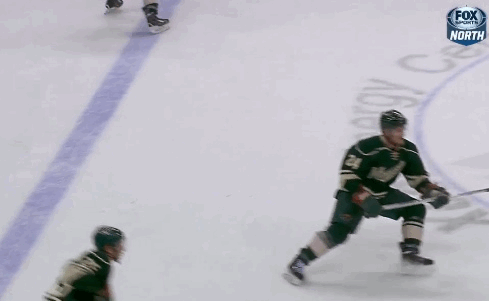 In looking at the second GIF, it doesn't seem like Benn made much of an effort to get around Cooke, as he could have kept going down the ice instead of cutting back toward the middle. While Benn did not leave his feet to deliver the hit, he certainly followed through with his elbow, catching Cooke up high.
Benn has never been suspended in his NHL career, but his case brings up an interesting thought, brought to the forefront by Chris Peters, editor of the United States of Hockey.
https://twitter.com/chrismpeters/status/424767058388058113
https://twitter.com/chrismpeters/status/424767276680622081
Benn was named to Team Canada's Olympic team for the Sochi Olympics, though it's highly unlikely a suspension would affect his availability. The Stars still have 10 games to play before the Olympic break, so Brendan Shanahan would need to really be trying to make an example of Benn to go for a suspension of 11 games or more.
With that said, it may serve as a cautionary tale for other potential Olympians to be mindful of their actions so as not to cost their country, not to mention their team. Sweden is already going to take a hit from carryover suspensions, as Alexander Edler is out for the first two games after a knee-on-knee hit on Carolina Hurricanes captain Eric Staal at the World Championships last spring.
What kind of supplementary discipline do you think Jamie Benn will receive? Let us know by voting in the poll below, or commenting on Twitter and Facebook.
Loading ...
Tags: Dallas Stars Jamie Benn NHL Olympics