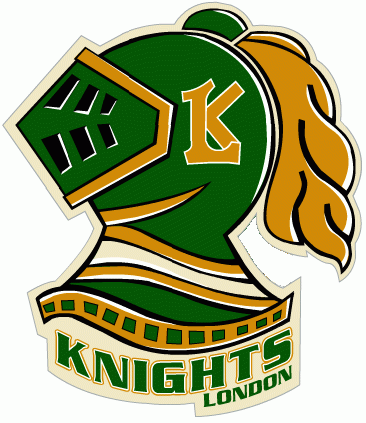 The London Knights and the Belleville Bulls – the top two teams in the OHL – both won a pair of games this weekend, while three other teams won two of three games to wrap up the weekend.
London began with a 4-3 win over Sault Ste. Marie on Friday before defeating Saginaw 3-2 on Sunday.  They remain the top team in the OHL, with a 43-12-2-2 record and 90 points in 59 games, and have won their last four games.
Belleville also won both of its games this weekend, beginning with a 5-2 win over Peterborough on Saturday and following up with a 6-3 victory over Ottawa on Sunday.
The Bulls are second in the league and top of the OHL Eastern Conference, with a 38-14-3-3 record and 82 points in 58 games. The Bulls are now on a nine-game winning streak.
Plymouth, Kitchener and Guelph each won two of three games played this weekend.
The Whalers captured a commanding 9-1 victory over Windsor in the first game of the weekend and defeated Sarnia 4-0 on Saturday before dropping a 6-5 match to the Spitfires on Sunday.
After dropping Friday's game to Saginaw 6-3, the Rangers defeated Sudbury 3-2 on Saturday and went on to beat Brampton 2-1 on Sunday.
Finally, the Storm started off the three-in-three with a 5-3 win over Niagara on Friday before dropping a 2-0 decision to Barrie on Saturday. Guelph finished the weekend with a 7-2 win over Sudbury on Sunday.
Another highlight of the weekend was Sarnia's 13-3 victory over Erie on Friday.
Sting left winger Reid Boucher had a six-point night, scoring four goals and adding a pair of assists, as the Sting defeated the Otters. Center Charles Sarault led the team with seven assists, and goaltender JP Anderson stopped 34 of 37 shots faced.
Tyler Hore, Anthony DeAngelo and Brett Hargrave each scored once for the Sting, while Bryan Moore, Nickolas Latta and Nikolay Goldobin added a pair each.
Erie goals came from Dane Fox, Hayden Hodgson and Travis Wood.
Sarnia's Boucher leads the OHL in goals, with 57 in 61 games this season, while Charles Sarault leads the league in assists (77). Sault Ste. Marie's Nick Cousins remains the league leader in points.
Belleville's Malcolm Subban leads OHL netminders with a 2.22 GAA, while Barrie's Mathias Niederberger has a league-best .932 save percentage.
With just about three weeks remaining in the regular season, seven teams have already clinched playoff spots, with a few openings remaining.
In the East, Belleville, Barrie and Oshawa will definitely be moving on to the postseason, while London, Plymouth, Owen Sound and Kitchener have clinched spots in the West.
The OHL regular season comes to a close on March 17.