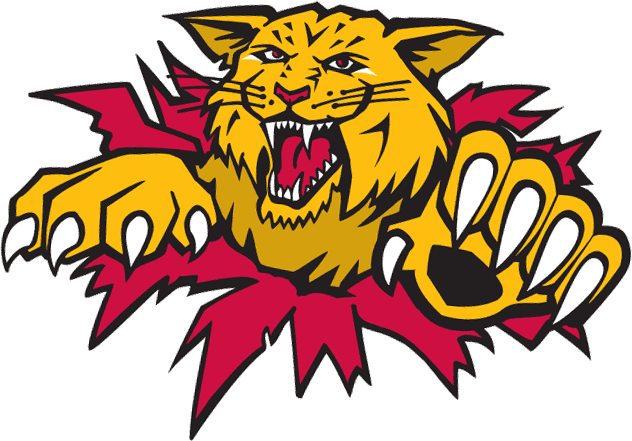 Moncton hosts Acadie-Bathurst in one of three QMJHL games on the schedule tonight. Nineteen points separate the teams, who sit at second and fourth in the TELUS Maritimes Division, respectively.
• Moncton: 34-20-1-0, 69 points; 220 GF, 170 GA, 6-4-0-0 in last ten
• Acadie-Bathurst: 22-29-5-1, 50 points; 195 GF, 226 GA, 4-6-0-0 in last ten
Moncton looks to break a three-game losing streak tonight; the Wildcats, who have already clinched a playoff spot, haven't won since February 8 and have dropped four of six games in the month of February.
Most recently, Saint John won 4-2 on February 15 over Moncton before the Mooseheads defeated the Wildcats 5-2 on February 16.
Tonight's game kicks off a four-game homestand for Moncton, who will host Drummondville, PEI and Cape Breton to finish off the month.
Acadie-Bathurst recently broke its four-game losing streak with a 5-2 win over Shawinigan on February 17. After four games at home, the Titan are now on the road for three games beginning tonight; they'll visit Cape Breton and Halifax before hosting Victoriaville to cap off the month of February.
Moncton left winger Dmitrij Jaskin is sixth in points scoring in the QMJHL, with 81 points on the season. Jaskin's 39 goals are tied for third-best in the league, a spot shared with three other players, including Acadie-Bathurst's Zach O'Brien.
O'Brien leads the Titan in goals, assists and points, with 80 points (39-41) in 55 games. Twelve of his 39 goals this season have come on special teams.
Jaskin leads Moncton in goals and points, while Allain Saulnier leads the team in assists. Eleven of Jaskin's 39 goals have come on the power play this season – but he isn't Moncton's most dangerous special teams player. That honor is reserved for right winger Yannick Veilleux, who has 16 powerplay and two shorthanded goals on the season.
Moncton's Allain Saulnier has 47 assists on the season, which is eighth best in the QMJHL, with a trio of other Wildcats also in the top fifteen: Phillip Danault, Alex Saulnier and Jaskin.
Wildcats right winger Yannick Veilleux has 16 power play goals on the season – second only to Rouyn-Noranda's Jean-Sebastian Dea, while Acadie-Bathurst's Zach O'Brien's five shorthanded goals are third-most in the QMJHL.
Moncton's Ivan Barbashev is tied for third in rookie points scoring, with 51 points (16-35) in 55 games, while Acadie-Bathurst's Patrik Zdrahal has 34 points (12-22) in 53 games.
Leading their respective teams in penalty minutes are defenseman Sean Girard (98) and Jonathan Racine (112) for Acadie-Bathurst and Moncton, respectively.
Titan centre Michaël Beaudry is one player to watch during tonight's game. The 20-year-old looks to extend a five-game point streak, a stretch that has seen him score three goals and four assists since February 2. He has 29 points (15-14) in 23 games with Acadie-Bathurst this season after garnering 42 points (15-27) in 32 games with Val-d'Or.
Tonight's game is the seventh of eight meetings between the teams this season. Moncton has won four of the seven, including the last two games on January 25 and 26, and has outshot Acadie-Barthurst 245-172.
The teams will meet once more, on March 17.