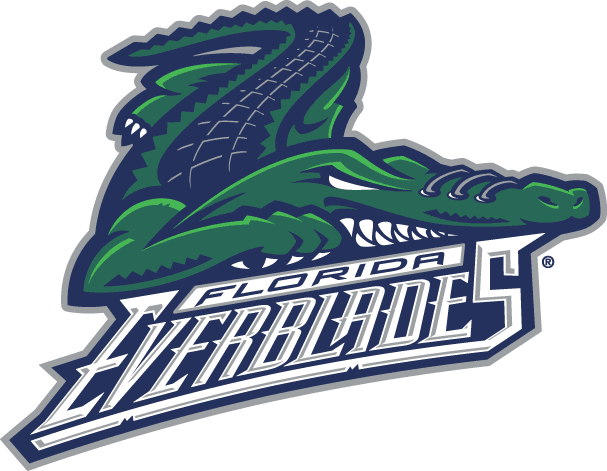 A 5-4 victory over the Gwinnett Gladiators moves the Florida Everblades a little closer to the top of the ECHL's South Division. Coming into the game four points behind the first-place Gladiators, the Everblades are now just one point behind second-place Greenville and two points out of first.
It all started with a pair of penalties to the Gladiators.
First, Justin Weller was served a minor for tripping at the 7:52 mark.The Everblades took advantage of the miscue, scoring 41 seconds later as Aaron Bogosian tallied his eighth goal of the season to give Florida a 1-0 lead.
Just fourteen seconds later, Gwinnett would take another penalty – this time, an elbowing minor to assistant captain Joey Haddad. History repeated itself, and just forty seconds into the penalty, Florida went up 2-0 on a goal by Mathieu Roy.
Despite being down by two goals less than halfway into the first, Gwinnett soon proved that the Everblades weren't the only team who could score on the power play.
After a fruitless power play from a high-sticking penalty to Beau Schmitz, Gwinnett took advtange of an interference penalty to Roy. Joey Haddad scored his 12th of the season to make it a 2-1 game.
The Everblades went on to score three goals in the second period, including a pair of goals by Roy to complete the hat trick. He opened the scoring at 7:41 before Gwinnett rallied back for a goal less than thirty seconds later by Alex Belzile.
Roy would score his third of game at the 15:06 mark, and Leigh Salters added a powerplay tally with 50 seconds remaining in the middle frame to give Florida a 5-2 lead.
Gwinnett's Nick Walsh scored just 2:20 into the third period, but the Gladiators were overall unable to complete the comeback, despite a last-minute shorthanded goal by Evan Bloodoff. Rob Madore had 38 saves for Florida, while Nick Niedert stopped 15 shots for Gwinnett in the loss.
John Scrymgeour and Olivier Dame-Malka both received fighting majors in the game; Dame-Malka ended the game with 11 penalty minutes.
Gwinnett has fifteen games remaining on the schedule; they'll play the next eight on the road before playing six of the last seven games at home. Meanwhile, the Everblades have 18 games remaining on the schedule; they'll play the next five at home before heading away for four games. They'll finish off the season by playing seven of their last nine games at home.
The Gladiators and Everblades meet again next on March 1.