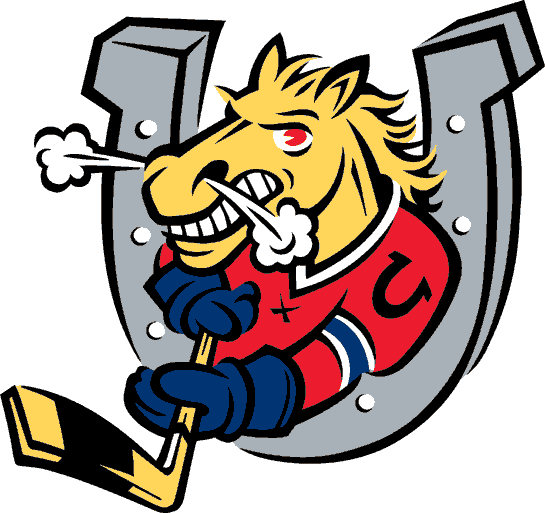 Two of the top teams in the OHL face off tonight, as the Barrie Colts visit the Owen Sound Attack in a 7 p.m. match-up. Just two points separate the teams in the standings as they meet for the fourth time this season.
Barrie currently sits atop the Eastern Conference with 66 points and a 32-14-0-2 record. The team is coming off consecutive wins over Niagara and Peterborough, with the Colts' most recent loss coming prior to that at the hands of the Attack (Jan. 23). The team is 7-2-0-1 in its last ten games.
Owen Sound, meanwhile, is second in the Midwest Division, behind the London Knights. The Attack have 64 points in 48 games this season (30-14-1-3) and are looking to break out of a two-game losing slump. Having accrued 948 penalty minutes, the Attack is the most-penalized team in the OHL.
Seven players on Barrie average a point or better per game, including center Zach Hall. Hall leads the Colts with 56 points (16-40) in 44 games this season. Right winger Steven Beyers and Andreas Athanasiou also have just over 50 points on the season. Left winger Anthony Camra leads the team with 27 goals.
Leading the way for Owen sound is center Daniel Catenacci, who has 25 goals and 34 assists for 59 points in 48 games. Cameron Brace leads the team with 28 goals, and Catenacci's 89 penalty minutes are most on the team.
Twenty-year-old Mathias Niederberger has a 2.42 GAA and .932 save percentage with Barrie this season; he's won 26 of 39 games played this season, stopping 1,222 of 1,311 shots faced. Jordan Binnington has been the main man in net for Owen Sound this season, winning 21 of 33 games played and carrying a 2.21 GAA and .931 save percentage. He's played just under 2,000 minutes and stopped 980 of 1,053 shots faced.
Of the three meetings between the teams so far this season, Owen Sound has won two of the games.
The Colts took the first game, a 4-3 shootout victory in Barrie on September 27. Josh MacDonald, Mark Scheifele and Zach Hall scored for the Colts; Attack goals came from Dan Catenacci, Daniel Zweep and Zach Nastasiuk. MacDonald was the lone scorer in the shootout.
The teams met again on November 21, and this time, Owen Sound took the game in a 1-0 decision. Cameron Brace scored the lone goal for the Attack in the home victory.
Finally, Owen Sound notched another shutout win at home on January 23 with a 3-0 victory. Brace scored, as well as Gemel Smith and Steven Janes, and Jordan Binnington stopped all 25 shots faced.
After tonight's game, the teams will meet again on February 21 and February 28, both 7:30 p.m. match-ups in Barrie.