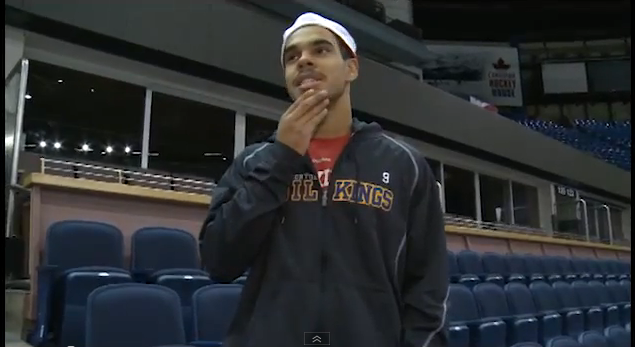 With trade deadlines come changes – and one of the most recent changes in the WHL is right winger Klarc Wilson moving from the Edmonton Oil Kings, where he spent parts of the past four seasons, to the Prince George Cougars.
Wilson, who recently starred in the Oil Kings' annual holiday video, was acquired by Prince George in exchange for a third round pick in the 2014 WHL Bantam Draft.
The Edmonton-born winger comes to Prince George during his fifth season in the WHL, having begun his experience in the league with the Brandon Wheat Kings before playing for the Oil Kings.
Wilson made his WHL debut with the Wheat Kings on January 28, 2009, earning two penalty minutes in a 2-1 victory over none other than the Oil Kings. Brandon drafted the forward with the 10th overall selection in the 2008 WHL Bantam Draft.
He went on to split the 2009-10 season between Brandon and Edmonton, notching two assists and 12 penalty minutes in 18 games with the Wheat Kings before being traded to Edmonton with a conditional third round draft pick for Brent Raedeke on December 30, 2009.
Wilson's first game as an Oil King was just one day after the trade as he faced off against his former teammates.
He scored his first WHL goal on January 8, 2010 versus the Vancouver Giants and ended the season with three goals and ten assists in 33 games with Edmonton.
In his first full season with the Oil Kings, Wilson scored 22 points (8-14) and 109 penalty minutes in 66 regular season games. He also had one assist and eight penalty minutes in four playoff games, and later attended training camp for the NHL's Winnipeg Jets before returning to Edmonton for the following year.
The gritty forward put up similar numbers in the 2011-12 season, scoring seven goals and 18 assists, along with 109 assists, in 67 regular season games. He also scored one goal and four assists in 14 playoff games as the Oil Kings won the WHL championship, defeating Portland in seven games.
This season with the Oil Kings, the 19-year-old had five goals and 11 assists for 16 points in 40 games. He also had 55 penalty minutes before being traded to Prince George on January 9, 2013.
Wilson is a player who isn't afraid to drop the gloves and will add grit to a Cougars lineup that dressed just 16 skaters in a game against Portland on the day that Wilson was acquired.
He may be available to join his new team for a matchup against the Kamloops Blazers on January 11.