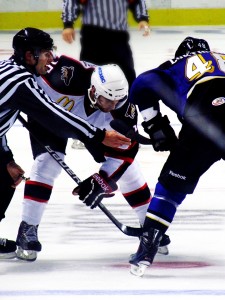 This afternoon the Portland Pirates look to finish their 3-in-3 weekend with a victory after falling 5-1 last night at the DCU to the Worcester Sharks.
While the Pirates are coming off of a fight-filled loss registering 15 fighting majors and 143 penalty minutes, the Monarchs are coming off of a 4-3 shootout victory.
Today the Pirates are looking to bounce back as they face their rival in the third game of the VIP Cup Series which will last all season long.  These two teams have faced off against each other two times this season with the Monarchs holding a 2-0 advantage over the Pirates, winning on the 20th 5-1 with Toffoli registering a hat trick and Evan Brophey putting up the only Portland goal.
Face-off is at 3:05pm ET and can be heard on 95.5 and 95.9 WPEI in the Portland area or seen online at AHL Live.