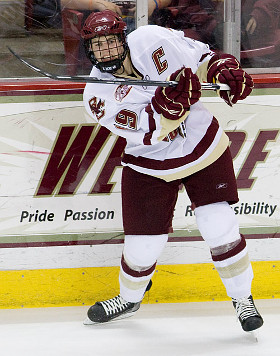 BC led 4-1, but had to hold off a late charge from BU to claim the 59th Beanpot title. The Terriers actually scored the first goal, via captain Kevin Shattenkirk, but Steven Whitney, Carl Sneep, Chris Kreider and Barry Almeida made it 4-1 Eagles just 4:22 into the 3rd, and the game looked to be over.
Kreider's WJC teammate David Warsofsky scored a pretty similar goal to his BC counterpart to make it 4-2, and then BU coach Jack Parker gambled and pulled Kieran Millan with a little more than three minutes to go, which paid off when Colby Cohen put in a power play goal. That was all they would get however as the Eagles held off the Terriers, who always show up at Beanpot time, to take the title.
BC goalie John Muse was named tournament MVP. He had 31 saves in the final and combined with his semifinal performance he earned the Eberly Award, given to the goalie with the highest save percentage in the tournament.
Earlier in the day, Northeastern topped Harvard 4-1. Their captain Tyler McNeely had 2 goals, and Wade McLeod had a goal and an assist. Chris Rawlings had 27 saves for the Huskies.
Tags: Boston College BU Harvard Northeastern